mad in pursuit travel notebook
DISPATCHED FROM THE CROSSROADS
Ireland 2012
Highlights #1: impressions | #2: the yew bowl | #3: it takes a village (to do family history) | #4: family freedom fighters | #5: odds 'n' ends
The Tick-Tock
DUBLIN
May 7. Picked up at Dublin Airport by Aongus H, Martina K's husband. To their home in Dun Laoghaire. Met Doréne D. and her husband Colm [photo].
May 8. Wild Wicklow bus tour south to Glendalough.
May 9. Taxi to central Dublin and settled in at the Temple Bar Hotel.
May 10. Met with Eva M at Trinity College and she got us in to see the Book of Kells. Walk to National Gallery. Lunch with Brian K and Eva. Leisurely meander back to the hotel, with coffee breaks. Pouring rain all day.
LONGFORD
May 11. Back to airport to pick up rental car from Hertz -- a gold Nissan Micra. Drive to Longford to the home of Mick and Carmel G. Met Mick's sister and brother-in-law Bridie and Frank. Dinner with Carmel, Mick, son Tony, son Robert and daughter-in-law Michelle at the Black Olive in Longford, followed by a stop at the pub.

May 12. Drove to COOLOO with Mick and Carmel for Aoife's First Communion party. Talked with six of the 8 Dunne sisters (as well as their parents Mick and Noreen) and three Monaghans, along with assorted spouses and children. [PHOTO Right: Portia, Aine D's daughter, caught in mid-action thanks to some photo tips from Michelle G]
Then to 8:15 PM Mass in KILKERRIN. Afterwards, we grouped at Conneely's pub, where Maureen had arranged for the private room and snacks. We were joined by more family: Collins (Paddy and Josephine, with their son Michael and his wife Martina; Nora; Mike and Eileen, with daughter Helen and son Enda); McLoughlin (Caithriona and Michael) [photo right]; Maura Stephens and husband Jack Arnold; and Anto Crehan [photo, story].
May 13. Touring with Mick, Carmel, Robert and Michelle. Strokestown Park Irish National Famine Museum and the Arigna Mining Experience (an old coal mine). Later relaxing in KILLASHEE at Robt/Michelle's. Michelle took our photos.
MOUNTBELLEW
May 14. Drive to Mountbellew and the St. Anne's Guesthouse, across the street from the Malt House (pub). Tony Martyn shows up at our door [photo, story]. Dinner with Maureen [Photo left].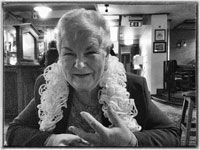 May 15. Walk through the Killyan cemetery; look at the abandoned Coughlin home; Ballinlass evictions memorial. Afternoon spent with Paddy and Maureen at her dining room table sharing family history info and stories. About 4 we were joined by Tony Martyn from Manchester, England, and his local cousin Tomas Crehen. More discussion. Among the topics was the family involvement in the Irish War of Independence. At 8:45 PM, met with Noreen D. at the Malt House [Photo right].
May 16. Visit to Rushestown townland with Maureen to see the old Martin land, guided by her friend Pakie Kenny [story, photo]. Continued drive through New Forest, past the Curraghmore National School, and through Ballaghduff. Lunch and talk time with Maureen.
May 17. Drive to Woodford to consult with the East Galway Family History Society. Set up an account to see what they can trace on the Martin family that I don't already have. Got twisted around on the roads so that we took the long way back to Mountbellew via Athenry. Lunch with Sinead D at 2 [photo right], followed by a tour of her new house-in-progress. Evening farewell celebration with a few cousins including Maureen C, her brother Mike and niece Helen; Mick D; Cora M; Ann and Caithriona McL; Grett's daughters Ann and Mary, and granddaughter Siobhan; Maura S.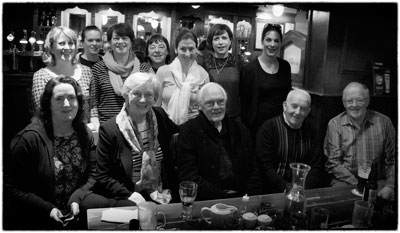 COUNTY KILDARE
May 18. Leisurely drive to County Kildare and the Maudlin House Hotel in Naas. Drove to Allenwood, where Brian K [photo right] met us and led us to his home, for dinner with Brian, Eva, her mom and their daughter.
May 19. Touring around Kildare with Brian, including St. Brigid's Well. Mostly it was getting to know one another by driving around. Back to his place for dinner.
May 20. Leisurely drive to the airport where we turned in the rental car (600 miles) and registered at the Raddison Blu Hotel.
May 21. Flight home.
May 26, 2012