Progress Report (What Progress?!)
2.13.2014. I've lapsed into some kind of loose exploratory mode. I keep playing with my cloth, waiting for something profound to happen. I don't know what.
Jim and I did our big star (Upper right in above photo), but can't decide what it should be a part of. And I screwed around with string quilting blocks and machine applique.
In preparation for this week's Building Blocks Quilt Along, I sandwiched together 8" squares of fabric from old shirts and did some impromptu applique with raw-edge scraps. The freestyle free-motion quilting was fun.
I especially liked my "Three Sisters in a Flower Garden" (see photo above). Yes, it was fun till one (not shown here) got totally messed up and I wound up frustrated. I managed to salvage it (sort of), but it was a reminder that I do better when I'm more methodical and have at least some kind of vision or mood or aesthetic or... something in mind before I start throwing scraps around.
Next I decided to use one of my practice sandwiches to try my hand again at hand-quilting. I wanted to use fatter thread and get visible stitches. I learned this is called "big stitch" quilting. It was enjoyable, though my hands got a workout. My design needed a little something more so I pulled out my Lumiere fabric paint -- my current solution for everything. See result below.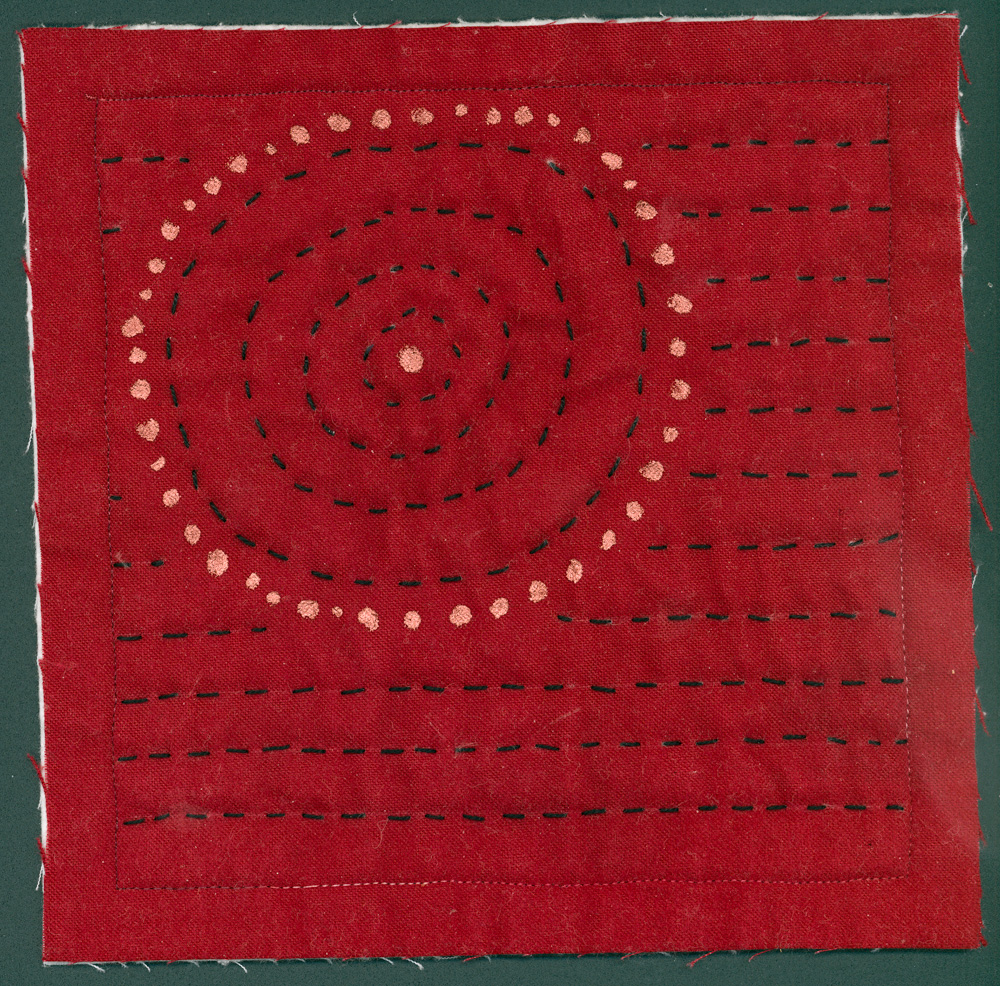 Meanwhile, I bought a damaged antique quilt that I though might be fun to repair. It's at the dry cleaners now, so I'm not sure what that project will entail. Stay tuned...
Update: stopped by the cleaners to pick up my quilt. Catastrophe. The quilt completely disintegrated. The result look like what a dog might barf up if he ate a... quilt. I couldn't believe my eyes. I'd signed a waiver absolving them of any responsibility for it because it didn't have a "care instructions" tag. I left in tears. The manager ran after me. She felt really bad and said she'd put a $25 credit on our account.
The quilt cost $60, so I guess I bought myself a $35 lesson in textile handling.
Practice squares, continued>>>