Spirit Cloth 101: Work In Progress
5.29.2014 [Cont'd from 5.10.14] I continue to work on my Spirit Cloth 101 project. In fact, the more I work on it, the more obsessed I become with it. It's an experiment, it's practice -- kind of a wild sampler. An idea strikes and I test it out. On the road, I decided to call it "Blue-Pocket Hideaway" but now I'm referring to it as "Pocket Haven." I'm trying to stop my brain from overthinking it and let my hands tell the story. But you know: Overthinking Is Me.
Working on this cloth makes me think of havens, sanctuaries, and Zuzu's protective force field superpower. I say I love adventure, but I can't really enjoy adventures unless I have a sense of stability, a safe harbor to retreat to, if only in my mind. Maybe I should call the piece "Zuzu Pockets," a place where souls can gather to be whoever they need to be, without harm, to discover their own powers.
Circles are clearly joining the pockets. On the road I cut a little porthole in the top white pocket and used some reverse applique to let one of the pocket's refugees peek out. On the one below that, the refugees are kind of sitting on the porch -- safety in numbers.
Below the little community is a pocket featuring scraps of cloth woven together. I don't know -- maybe it's a garden.
The other night I got into Indian "shisha" mirror work. Mirrors are always nice for warding off evil and attracting the light. I think the instructions I had weren't very good, making the results too fragile, too prone to lopsidedness. After I'd made about 4, I found better instructions. I definitely need to practice these. See photos below: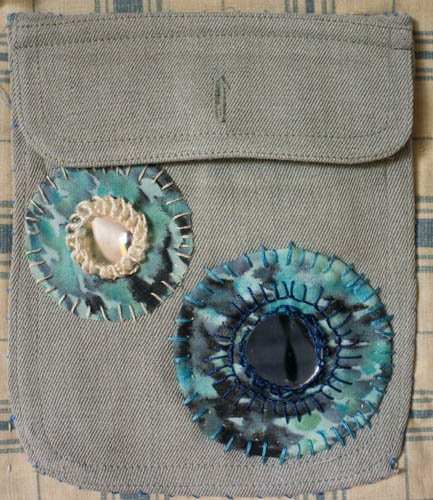 Oh, did I mention how hard it is to embroider on a pocket without sealing it up? I always bring these annoyances on myself. But I do want the pockets to remain functional.
I've been looking at some Japanese textiles and am intrigued by some of the intensely quilted patches. Here's my try, on the left of the photo below:
Now I am IN LOVE with how that looks, those horizontal stitches across my little applique. More, more!
To be continued...
***