Mad in Pursuit Notebook
Today
Snow Dyeing: Transformation of the Eco-Duds
Jan. 17, 2016. Last year I was enchanted by the possibility of creating "eco-prints," by bundling up flowers and leaves in white cloth and letting them "cold-process" for a month or steaming them on the stove. The results were not pretty, literally. I got a few faint impressions of maple leaves, but in general, the accumulating pile of fabric looked sad and possibly infectious. The image below (maple leaves cold-bundled into habotai silk) was the best of the lot.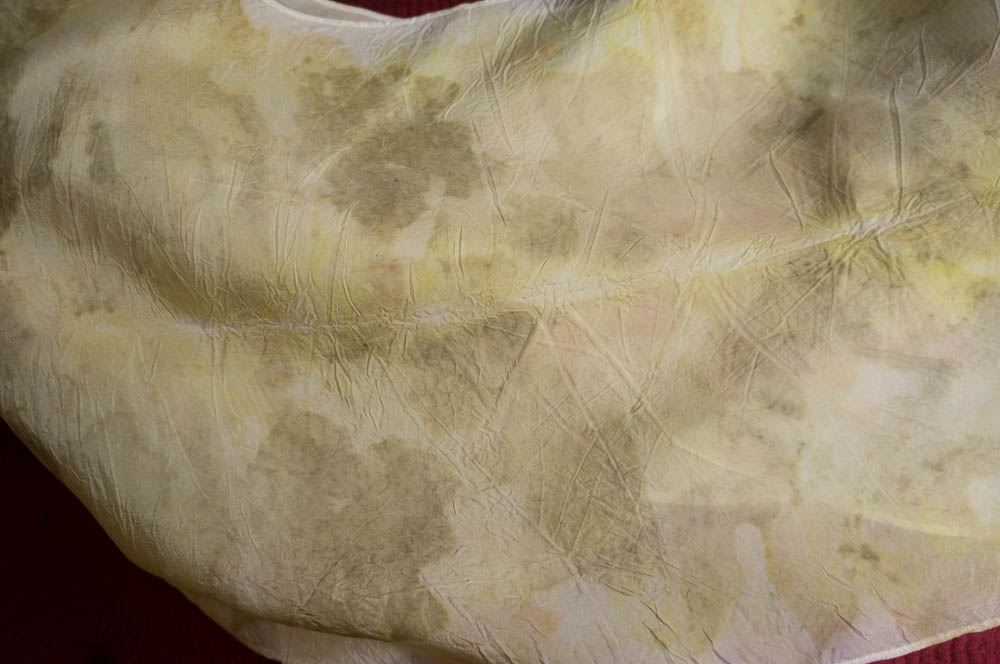 So last week, with fresh snow on the ground, I looked around for some fabric to further experiment with ice dyeing.
The eco-duds!
Step 1: Pre-soak in fixative. Threw the eco-duds into a bath of soda ash and salt, which you can make in bulk and have on hand to prepare cloth for Procion MX dyes (Formula: 1 gallon warm water, 1/3 cup soda ash [fixative], ½ cup table salt [optional, for brighter colors]. STIR thoroughly to dissolve chemicals completely.) Immediately, the markings on the cloth turned coppery, so I got excited that something interesting would happen. After 1/2 hour, removed cloth and squeezed out excess.
Step 2: Add snow. Arranged the six pieces of cloth on the bottom of a large plastic bowl. Heaped snow on top (about 1/2 a bucket).
Step 3: Sprinkle dye. Wearing apron, rubber gloves, and respirator mask, I sprinkled on the powdered dyes: Sea Glass, Cobalt Blue, Peacock Blue, Bachelor's Button, and Bahama Blue. Covering the bowl, I left it in a warm place for about 24 hours.
Step 4: Wash. The usual after-dye routine: cold water wash with a squeeze of blue Dawn (washing machine, gentle cycle, with added rags/towels to balance the load. I always throw in a Shout Color Catcher sheet to pick up any errant color.). When that's done, I rearrange the wet cloth (esp. if it's tangled), then duplicate the process using hot water. This time, I didn't bother with the dryer, but went straight to the ironing board.
Results
I expected the chemical Procion MX dye to overpower the biologicals. But I was amazed to see that they played beautifully together. Image below: two habotai silk scarves from the maple leaf experiment (same as image on top).
Image below: 3 pieces of damask linen (old table cloth) and a piece of unbleached muslin (right). The silk and linen came from my maple leaf experiment. I think the muslin came from a random weed experiment, steamed in a bundle.
Afterthoughts
It's a cliché that there are no failures in the textile biz -- a dud is simply raw material (and learning) for the next project. But I did think about the difference between "serendipity" and "power." Serendipity is that luck that "favors the prepared mind" [Louis Pasteur]. Using the eco-print duds in an ice-dyeing project had a serendipitous result: a transformation from unusable to usable, from ugly to pretty. Delightful and unexpected.
But if I want to be a true textile alchemist, I need the POWER: enough knowledge and experience to plan a project and get the predicted result, with the delightful surprises being little bonuses around the edges, hints of epiphanies to come.
***
---
THE SUDDEN SILENCE: A Tale of Suspense and Found Treasure (2015) Thailand: lovers of ancient treasure tangle with international black markets. Delia Rivera pulls Martin Moon back into the game and their quest turns deadly. In paperback and Kindle editions.
TRIBE OF THE BREAKAWAY BEADS: Book of Exits and Fresh Starts (2011) Time after time, Mary asks herself: Do I go or do I stay? She finds her power in her ancestors: Smart women turn discontent into action. An illustrated memoir in paperback and Kindle editions.
PASSION AND PERIL ON THE SILK ROAD: A Thriller in Pakistan and China (2008) The twin forces of revenge and redemption drive Nellie MacKenzie and Taylor Jackson on a crazed adventure into the heart of Central Asia. They grapple with issues of ethics, trust, rage, and bitter heartbreak -- as well as the intrigue of the international antiquities trade. In paperback and Kindle editions.
Connect:

All pages in this website by Susan Barrett Price are licensed under a Creative Commons Attribution-Noncommercial-Share Alike 3.0 United States License. [The snowstorm image at the top of this page came from Wikipedia, under a Creative Commons license.]