Mad in Pursuit Notebook
Today
Textile Crazy: A Few Handiwork Items
Dec. 30, 2016. Looking back over 2016, I see I didn't write up any artsy activities of my own since July 1, when I finished my last doll. So here's a quick review.
Belt pouch. (photo above) My 20-year-old belt pouch finally bit the dust, so I hand-stitched one with felted wool, giving myself compartments for phone, earbuds, notebook and pen, plus a small extra. There's a little crookedness to it, but that's the charm of handmade, right?
Banners. (below) Thought I would stitch small banners for my porch posts and let them, you know, weather in the wind. But they wound up taking quite a bit of work so I wasn't ready to surrender them to the elements. The first one used my indigo shibori (tie-dye) cloth as background, with appliques from my growing stash of natural-dye fabric (avocado pits, dandelions, etc.). It represents earth, air (sky), wind, and fire (sun). The "roots" below are big African glass beads and I made the twine above and below from strips of fabric scraps. The whole thing is heavily quilted with tiny running stitches.
The second banner (below) is more random. They are both hanging in our bathroom.
Can't decide if the one below is done yet. Magnets hold it to the side of the refrigerator. It started out with teaching myself to do ribbon-embroidered flowers with fabric strips. Then I appliqued Dot and Dash, encircled them with my twine, added an appliqued checkerboard, then stitched that together with some hand-dyed cotton. Sweet. (There's another "work in progress" around here, but I can't find it.)
Upcycled jewelry. Don't ask me why Jim has a collection of Victorian and 20th c. jewelry, but he does and it's just sitting around contributing nothing. It's too good to break into bits for shabby chic jewelry collages, but not really valuable. So here (below) I decided to upcycle a peacock brooch by pinning it to some wool and embroidering around it. The jury is still out on whether this is a worthwhile artistic activity.
Dyes. It seems whenever I'm restless, I get out the dye. A blizzard early this month got me back snow-dying some new cotton dish towels to replace the sad things we've been using for decades. Then I decided to send for some natural dye extracts, as a respite from trying to eke color from winter kitchen scraps. Below are the warm results on wool. Left to right: cutch, lac, and madder. The bottom layer is the official simmered-for-2-hours results. For the top layer I poured the leftover dye into mason jars, with more wool and left it overnight, for paler results. For the lac and madder, I overdyed former dye disasters, so I got an interesting multi-color result. There are no failures in dyeing -- failures are always just prologue to the next experiment.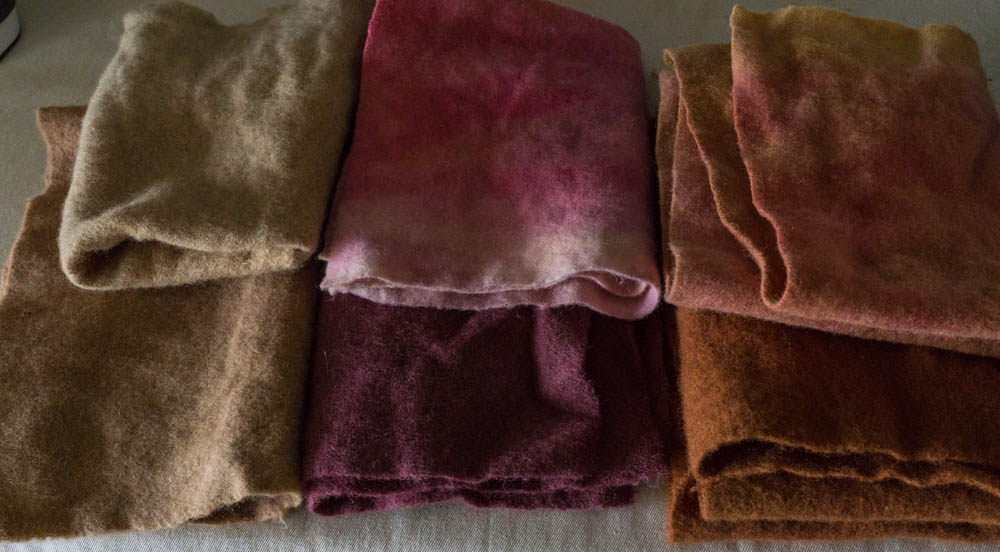 I'm restless now to know how my visual art will develop in 2017. I pulled out my doll-making books, ordered some polymer clay, assembled my jewelry tools... I want to push myself to learn some new and difficult skills, but have to be ready to face that bitch, Learning Curve.
***
---
THE SUDDEN SILENCE: A Tale of Suspense and Found Treasure (2015) Thailand: lovers of ancient treasure tangle with international black markets. Delia Rivera pulls Martin Moon back into the game and their quest turns deadly. In paperback and Kindle editions.
TRIBE OF THE BREAKAWAY BEADS: Book of Exits and Fresh Starts (2011) Time after time, Mary asks herself: Do I go or do I stay? She finds her power in her ancestors: Smart women turn discontent into action. An illustrated memoir in paperback and Kindle editions.
PASSION AND PERIL ON THE SILK ROAD: A Thriller in Pakistan and China (2008) The twin forces of revenge and redemption drive Nellie MacKenzie and Taylor Jackson on a crazed adventure into the heart of Central Asia. They grapple with issues of ethics, trust, rage, and bitter heartbreak -- as well as the intrigue of the international antiquities trade. In paperback and Kindle editions.
Connect:

All pages in this website by Susan Barrett Price are licensed under a Creative Commons Attribution-Noncommercial-Share Alike 3.0 United States License. [The snowstorm image at the top of this page came from Wikipedia, under a Creative Commons license.]