historic castlewood, missouri
"meet you out at the river"
East Hill Drive
Location. At the south end of New Ballwin Rd. A steep climb.
1930s - 1950s. "The last club on the road before going up to our club house was a man named Ben Shabus (?), then the Browns, then the Wykoffs (they had a daughter Shirley that was my friend). Then a club empty for years. Then a club owned by a bachelor and that's what we called the club: The Bachelor's" [Kathleen Price]
"I remember a family on our road named Brown...There was Barbara Brown, Buster Brown, and another brother with blond hair named Earl Brown......Next door to the Browns were some people who raised Dobermen Pincer dogs. They kept them in large cages in the yard...I remember they barked and growled at you if you walked by their house. One day two of them got out and cornered my mom -- she was screaming and Ewald had to go down there with a crowbar and chase the dogs away...We were all very scared of them. It was a wonderful day when the people move away. I do not remember what every happen to the Brown's. I think across the road was another family named Newhouse ??? or something like that. They had a daughter and a son. Who knows where they went." [Barbara Holland, 2009]

All Inn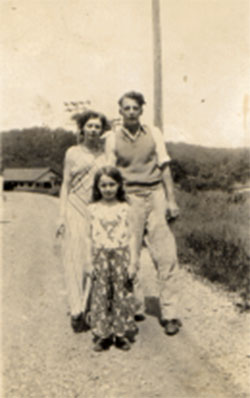 1930s through early 1960s. Owned by Catherine (aka"Kitty Mom") and Ewald Curran of St. Louis. Kitty Mom's daughter Mary Barrett began going out there first with her girlfriends and partying with the boys who rented the Bobolinks club. The Currans enjoyed fun, too, and wanted a place for the girls to stay so that they wouldn't have to drive all the way back to north St. Louis. So they bought All Inn. (Photo to right: Mary Barrett, Lester Hohmann, Kathleen Barrett in front of The Grove dance hall in Castlewood, about 1932)

The club at 618 East Hill Drive was named All Inn when they bought it. All-in is a poker term referring to betting all your chips — there was a lot of gambling in Castlewood during Prohibition. Then the name was carried over to the Tavern that the Currans operated in the 1940s in the City of St Louis.
Mary Barrett wound up marrying one of the Bobolinks guys, Lester "Lefty" Hohmann. They spent weekends out there for years with their children George, Barbara, Tom and Jim.
Mary's younger sister Kathleen Barrett met her husband Walter "Curly" Price for the first time at the Crossroads (see New Ballwin Rd). Their children were Susan, Tom, Ellen and Kathleen.
More about the All Inn on my personal pages>>>


Bobolinks
Memory - 1930s
. "A bunch of fellows rented the place and they did a lot of partying there. There was always singing and dancing and acting crazy." [Kathleen Price]
All Inn about 1935