Susan's Castlewood, 1950s
Yesterday's mail brought a little memoir that my mother wrote some time ago about her days at Castlewood, where the All Inn clubhouse was located, along with an article about the area in the good old days of Prohibition. Then I went to Google Earth to see if I could find a birds-eye view of the old stomping grounds.
With Google Earth open it took me a minute to find Castlewood. I wound up searching for Ballwin, Missouri. There was New Ballwin Road. I followed it and, oh my God! There was East Hill Drive! If someone had asked me what road the club was on, I would have drawn a complete blank. No one back then ever referred to road names -- not ever. But now I remember those dawning moments of childhood when a vast borderless landscape began to yield things like street names. I can remember the moment when I could tell myself that the way to get to Castlewood was to turn left off Manchester Rd to New Ballwin Rd and just go straight till you hit a dirt road called East Hill Road, where you would have to put your car into second gear to get up the hill.
There is was. Suddenly, this was not my mother's memoir but my own. The map below shows where I spent every summer weekend of my childhood for at least the first 11 years (and where my mom spent an additional 15 or so summers). My companions were most often my brother Tom Price and my cousin Tom Hohmann. Cousins Barbara and George Hohmann were older and had their own agendas. Their youngest brother Jimmy and and our little sister Ellen were a too young to tag along with us. My uncle Lester was a fireman so he was only there every other weekend -- that meant that my dad and grandfather Ewald Curran provided most of our fatherly entertainment.
Here is the Google map. The yellow annotations are mine.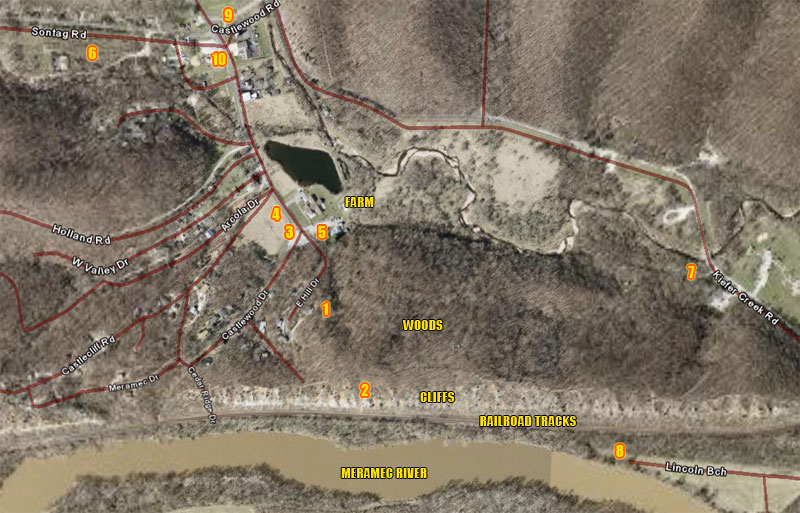 1. All Inn was at the end of East Hill, requiring a hairpin turn into the long driveway. It was a gravel road, reddish from all the iron content in the soil and rocks. Perched on the hill below the driveway and above East Hill Drive was the club. The land to the right of the driveway continued up hill into the woods.
2. From the club through the woods was a path that led to the edge of the grand rock-faced cliffs — limestone bluffs about 250 feet high, which must have resulted when some ancient earthquake split the land and tip up this edge. The cliffs overlooked the Meramec River and railroad tracks (how often did we sit there and count cars of passing trains?). What a joyous and scary place. I guess my parents scared us pretty good about approaching the edge -- otherwise, how could they have let us spend so much time along up there?
3. Down the hill was St. Elizabeth's Catholic church -- a plain wooden building on top of a rise, with no landscaping. Benches, no kneelers. They would pass out fans in the heat of summer and take count of who was going to communion so there wouldn't be leftover hosts. Later, a modern church -- Holy Infants -- was built a few miles down New Ballwin Road toward civilization. Ewald would waken the willing kids to go with him to 6 A.M. Mass, then we'd help him produce a huge breakfast, ready when the others got back from church. He made those Sunday breakfasts for more than 20 years.
4. By morning, worship took place in the church. By afternoon and evening the fun was at Mike Hrin's Tavern. Also known as Crossroads. And during the 1940s known as Nig's (for owner Nig McDaniel). Where I first played pinball.
5. This was Eddie Pahl's farm at the bottom of the hill. I remember the pond, cows, and the barbed wire ("bobwahr") fence that marked off his property. During the 1940s, there was a bar, restaurant and dance hall (where my mother's brother Bob taught her to dance). It was known then as the Lone Wolf Ranch. It reverted back to farmland in the 1950s.
6. Sontag Road was where the public swimming pool was -- a half-moon-shaped pool filled with icy, mineral spring water, salty and sulfurous. Where I learned to swim, where I didn't learn to dive. Hank Williams songs playing over the loud-speakers.
7. Where Keifer Creek Road passes over Keifer Creek. We caught crawdaddies in Keiffer Creek. Once, on a Sunday evening, I was with Kitty Mom and Ewald as Ewald drove us through the flooded creek in order to look at the flooded river. Scary. And probably not too smart.
8. Lincoln Lodge. A favorite watering hole across the river from the (by the 1950s) abandoned Lincoln Beach. Air of tarnished grandeur and days gone by. It is interesting that the men in my family were charged with so much weekend child care. They didn't mind a bit bringing us to Lincoln Lodge or Mike Hrin's. Our mothers took us to the swimming pool but our dads and grandfather took us on adventures. I remember a grand couple of hikes we took with our dad when our legs got longer. Funny how they would always wind up at Lincoln Lodge and my mom would come pick us up. Ewald had a motor boat stored in the boathouse here for a season, but for some reason that activity didn't catch on with us. Maybe by that time, we kids were too terrorized about the river and spent our boat time watching for whirlpools that would drag us under.
"I was there when the old Lincoln Lodge burned to the ground in 1972." writes Jan, a former Ballwin resident, now living in Florida. "Actually the fire was started by some local 'volunteer firemen' who got $2 for responding to a fire and wanted the money to party with."
9. Dickinsons. A little grocery store. We went with Dad and Ewald to buy beer and blocks of ice that got put in 4-legged metal coolers and chipped apart with ice picks -- kept the beer cool all day. You'd turn onto Castlewood Rd there to catch Keiffer Creek Road down to Lincoln Lodge.
Note from Dickinson's daughter: "Mr. Dickinson was my father. He passed away in 1993. We also have good memories of Castlewood. I use to go down to the old hotel where all the steps are quite often. I helped dad with the water system in Castlewood years ago. Our pump house was down on the Meremac river. To get to it we had to go down the steps. Joan W."
10. Bill Breitts. I remember this as more of a restaurant than a bar. It was a special treat to go there for dinner -- usually when Kitty Mom and Ewald had us alone -- maybe on a Sunday night.
For each of these places I have lots of memories. I suppose I should come back to this page now and then and elaborate on one place at a time. My mother and my brother and my cousins will no doubt have different memories.
If you or your parents have memories of the legendary Castlewood (1920s - 1950s) that you'd like to contribute, I'd love to hear from you. I'll integrate your memories into my pages, with credit to you.
Notes
THANKS to my mom and cousin Barbara for adding in some missing details.
"Castlewood" today is a state park. But except for Lincoln Beach, it's not the Castlewood of clubhouses where my family roots are.
11.26.05 (rev. 12.19.05)