Heat
When I was a child, the heat of summer was unavoidable. Like life's disappointments, heat rose from the swampy terrain of the Mississippi valley and just hung there. Nothing, really, you could do about it.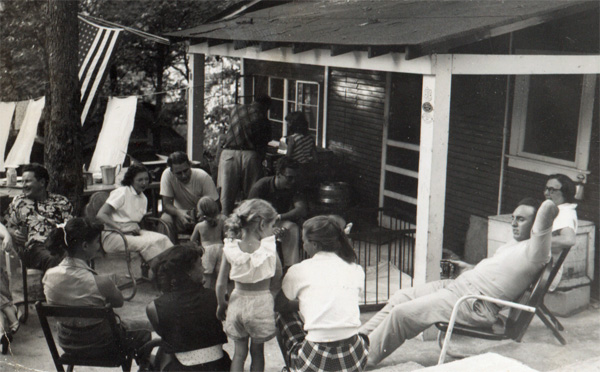 ...
Heat was. No fighting it. Nothing to do but slow down, pop the cap off a cool one, and sit in a circle under and oak tree with your friends and family. Maybe a breeze would stir.
In the 1950s we all lived in small apartments in north St. Louis, but on weekends we'd go out to my grandmother's club for the shade, the breeze, and the conviviality.
And the swimming pool.
In the afternoon when the heat got really bad, we'd pile in the car and head for the swimming pool on Sontag Rd. The giant semicircle pool next to Keifer Creek was icy cold, fed from salty mineral springs deep underground. We learned how to jump off the high dive, hold our breaths and go exploring deep into the pool's greenish murk. There was a clubhouse, dark inside, with a bar and a jukebox. The jukebox music played over loudspeakers outside. Honkytonk. Hank Williams. Not the tunes my parents played, but tunes that linger in the back of my mind. "Hey, good-lookin' — watcha been cookin? — How'sa 'bout cookin' something up with me?"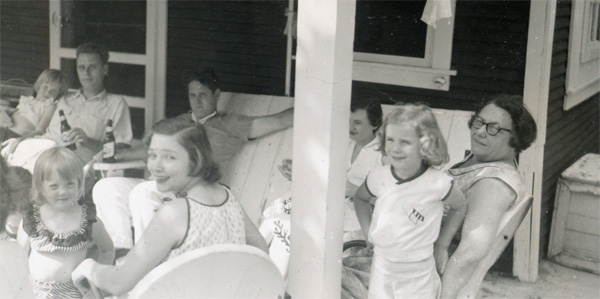 Sometimes there is nothing to do about heat but bake in it. Be still. On quiet afternoons, I'd go to the stifling second floor of the club, turn on the fan, lay on the bed by the open window and read a book. Be still. Outside I could hear Cardinals baseball on the radio. Cicadas. The occasional clang of horsehoes. The slam of the screendoor. There was secret pleasure in this. If any of the adults caught me I'd be chased outside. Reading indoors was too dangerous. Cooking best done outside on the open pit.
7.11.07
Photo (top): All Inn Club on East Hill Drive, Castlewood MO, 1952. Clockwise from left: Ewald Curran, Loraine and Jack Price with one of their daughters, 2 standing figures unknown, Jim Murphy, unknown baby, Kitty Mom Curran, unknown, Donnie Murphy, Kathi Price, unknown woman, Bette Tighe?.
Photo (middle): Castlewood, 1953. From left, Kathi, Jackie, and Judi Price, Theresa Tighe, Susan Price, Tom Hohmann, Tom Price.
Photo (bottom): Castlewood, 1954. Clockwise, from top left: Jackie and Jack Price, Curly Price, Betty Ann McSkimming, Kitty Mom Curran, Susan Price, Lorraine Price, Judi Price.