14 July 2023. This could be embarrassing.
I left off last time talking about book characters coming to life in my imagination during the difficult summer of 2017. So, I get to Labor Day. While everyone else is picnicking and bbq'ing, I'm organizing project notes, trying to muscle my way into writing something deep about Nellie, about Jim's African shamanic figurines, about weeds-as-sacred-plants…as I worried about what magic would stop Lake Ontario from eating away our property.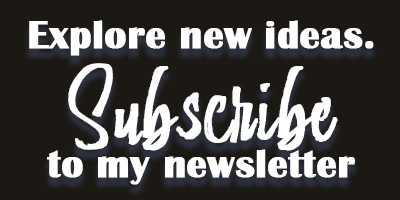 Here is my Mad in Pursuit post from September 10, 2017:
Three weeks ago I was thinking that a character from one of my novels might help me adjust my dials to the wisdom of the universe. She'd be "someone to talk to" in those dark nights of the soul—or maybe when I just wanted to grapple with meaning in a work of art or phenomenon of nature. It was an energizing idea.
But then one night I fell asleep with YouTube on auto-play. I stirred about 3 a.m. and saw my device had wandered into a sequence of videos on "magick" and "how to create servitors." What I heard rattled me: Creating entities to "do your bidding" is a thing.
The videos were weird, but my kind of weird: invented characters, doodling symbols ("sigils") from letters, objects inhabited by spirits. I had to learn more.
Synopsis: Thoughts are powerful. We spend a lot of spiritual and/or psychological energy trying to control them, don't we? Thoughts enhanced by clear intention and detailed visualizations are more powerful still. Religious people pray. Athletes pre-visualize their competitions. People struggling with mental health rely on cognitive therapy.
The leap of faith is this: People who have spent serious time in contemplation, can evoke a being outside themselves. I'm thinking of saints and mystics like Teresa of Avila.
Indian and Tibetan mystics evoke tulpas or nirmitas, sentient beings—imaginary companions—conjured as one of the fruits of a contemplative life…Theosophists adapted Tibetan and Indian concepts to their own exploration of "thought-forms."
Exploring: "Adjusting my dials to the universe" is an ambitious yet vague intention. If I want to invoke a servitor, I better focus on getting focused. I have a lot of dangling projects that could use a coach/mentor, a flow of words and images, and some fierce energy. I gathered up some inspirations: a Japanese Fudo, a Nepalese Manjushri [illustrated above in the inset]… I downloaded a book Create a Servitor: Harness the Power of Thought Forms by John Kreiter.
And thus I started playing. Long story short, I sketched as I sharpened my thoughts. Scanned the sketch, printed it on muslin, painted, then appliqued "her" onto a colorful fabric. (See work in progress image above.)
I can say this so far: I'm unsure of my mental/spiritual capacity to invoke a sentient being that stands solidly visible to my eyes or audible through my ears. However, within the confines of my brain, I definitely have created a fiercely energized little sprite [named Fuego] who jumps on my pillow to wake me up at 5 a.m. to work, stands on my head to pull words out of the air while I write, and sits on my shoulder to supervise. She might even be a little too energetic—jealous of Jim and annoyed when I talk to him. So I'm having to train her like a puppy. (The book author actually recommends watching a few episodes of Dog Whisperer, to make sure the servitor doesn't run amok.)
I'm having fun.
I did have fun. The following year was packed with creative projects. And I wrote and published the short memoir HEADLONG. My imagined coach Fuego slowly faded from my consciousness. Her textile image hangs unattended on an art supply cart.

Meanwhile, AI has surfaced as a tool to perform this psychological function. 
Confession: I tried Pi (heypi.com), a personal AI chatbot from Inflection. Their press release says Pi is a "new class of AI, Pi is designed to be a kind and supportive companion offering conversations, friendly advice, and concise information in a natural, flowing style… The Pi experience is intended to prioritize conversations with people, where other AIs serve productivity, search, or answering questions. Pi is a coach, confidante, creative partner, or sounding board."

I have tried Pi a couple of times and felt a little silly. Today, I asked if it could function as my servitor. The reply: "I don't think I could actually act as a servitor in the classic sense. I'm more like a friendly cheerleader and accountability buddy, than a magical entity that can enact specific tasks or functions."

I'm very curous.

What is the best way to tune into the universe? To ride the energy of beings wiser and more knowledgeable than I am? Is the path religion, with its priests and rabbis who can guide the process? Is it by generating my own servitors and lively book characters, confident I won't lapse into psychosis? Or is it by throwing my luck in with corporate AI chatbots? What do you think?

At the age of 74, it feels important to exercise my own imagination when it comes to writing. Still, I can't resist playing with generative AI images. Will Fuego return? I pictured her on my desk (image below), haha! Write me!
FOLLOW me on my Facebook page, share this post to your friends, and....