Mad in Pursuit Notebook
[Here]
Small Tribal Rugs from Central Asia
Jim has a small collection of tribal rugs from central Asia (think northern Afghanistan and the old Soviet Republics). Their average age is probably a hundred years old. A subset of them are small -- baby-sized. I think if a child slept with one of these next to her bed, it would inspire her in a number of ways, maybe changing every year until she rolled it up and took it to her college dorm or to her new job in Paris or Jakarta.
Visual patterns: what are these pictures of? Flowers? Goats? Peacocks? Stars? In folk art, nothing is haphazard. Every design is full of symbolism and meaning.
Design: Look at how it all works together -- borders and motifs, symmetrical, but not quite
Curiosity about the maker: who made this beautiful thing? Who are the girls on the other side of the planet who know how to make such a lovely thing? How do they live?
Technology and engineering: how is a rug made? A base is woven on a loom, then wool yarn is knotted at every intersection and cut to make the pile. Who thought that up?
Colors: Blue from indigo. Red from madder. What are these plants and how did people figure out that they yielded such lovely colors? Some colors are faded or shifted into browns. How does that happen?
History: how long have people been making rugs and carpets? When did they start adding color? When did they start adding designs? Did they realize that the more beautifully they created floor coverings, the happier their home was?
Endless mystery: Antique carpets and rugs are notoriously difficult to identify and analyze. We have a shelf full of books on "oriental carpets" and "tribal rugs." I read a little, learn a bit, forget, then go back for a bit more. At his peak of collecting and studying tribal rugs, Jim might have been able to nail the origin of each rug pictured here. But for me, they will always be a source of joy -- some days they tell me a story, some days they are just pretty to look at.
Care: I appreciate the easy care of old wool rugs. I refreshed these little ones by putting them into the dryer with a rubber shoe and setting it to air fluff for 20 minutes. They can be washed (after beating out the dust) by this method: wet down with cool water and a little castile soap; sponge with the nap till good and soaked; then spray or hose down with clear water (with the nap, not against). If, uh, urine is a culprit, vinegar can be added to the wash water.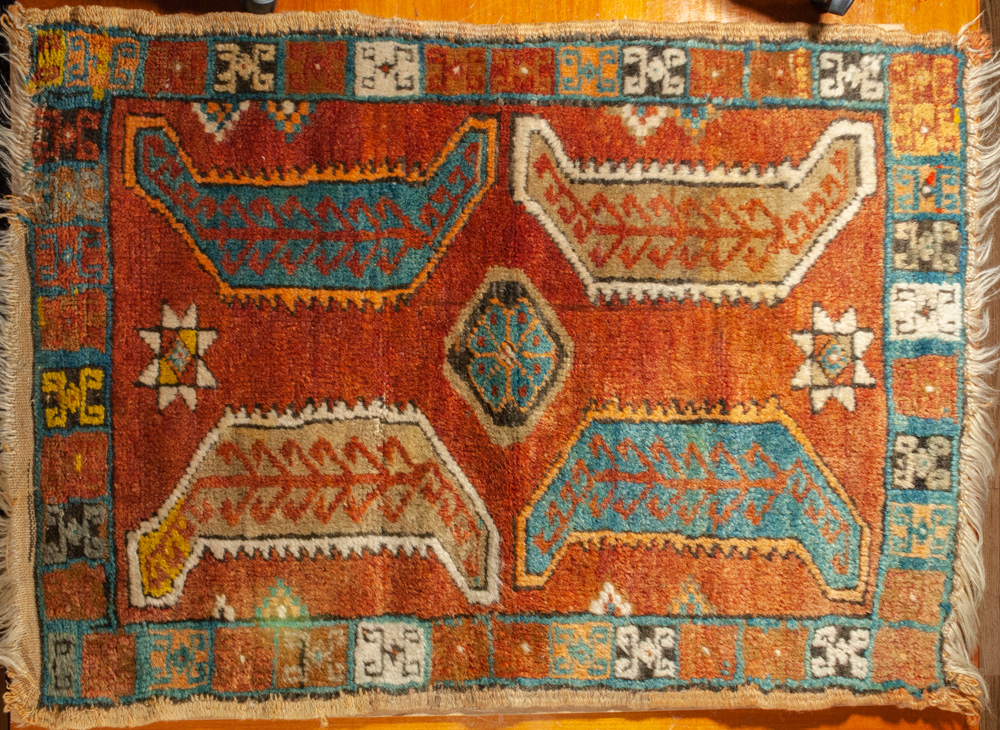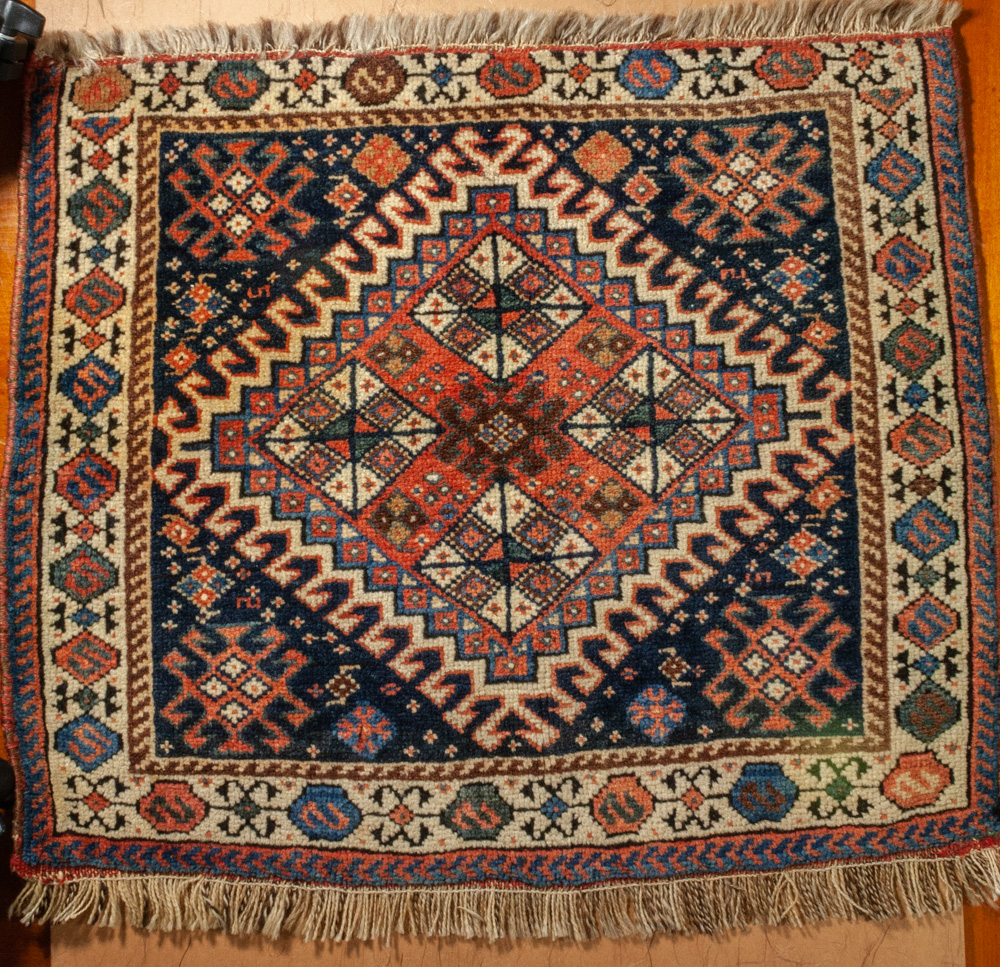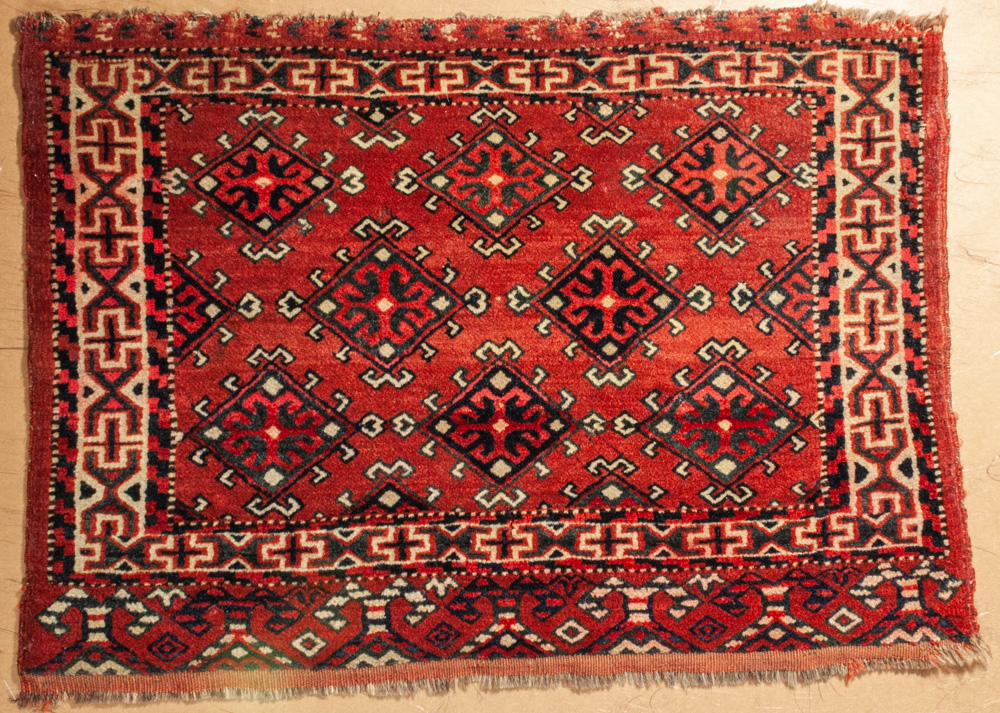 ...
***
---
THE SUDDEN SILENCE: A Tale of Suspense and Found Treasure (2015) Thailand: lovers of ancient treasure tangle with international black markets. Delia Rivera pulls Martin Moon back into the game and their quest turns deadly. In paperback and Kindle editions.
TRIBE OF THE BREAKAWAY BEADS: Book of Exits and Fresh Starts (2011) Time after time, Mary asks herself: Do I go or do I stay? She finds her power in her ancestors: Smart women turn discontent into action. An illustrated memoir in paperback and Kindle editions.
PASSION AND PERIL ON THE SILK ROAD: A Thriller in Pakistan and China (2008) The twin forces of revenge and redemption drive Nellie MacKenzie and Taylor Jackson on a crazed adventure into the heart of Central Asia. They grapple with issues of ethics, trust, rage, and bitter heartbreak -- as well as the intrigue of the international antiquities trade. In paperback and Kindle editions.
Connect:

All pages in this website by Susan Barrett Price are licensed under a Creative Commons Attribution-Noncommercial-Share Alike 3.0 United States License. [The snowstorm image at the top of this page came from Wikipedia, under a Creative Commons license.]