Mad in Pursuit Notebook
Flanagan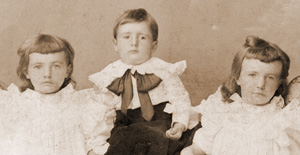 Moses Flanagan and Margaret Keville Family
Overview
Maggie and Moses started their family in Chicago. At some point after Kitty was born, they moved to LeClerc Illinois (near Edwardsville). Kitty remembered this as a happy and prosperous time. When Kitty was six (about 1896), with an older sister and 3 younger brothers, the family moved to north St. Louis. Two additional daughters were born before Maggie died at the age of 37. The family destabilized. Most obvious to suffer were the two youngest girls, who, by 1910, were living in an orphanage.
These are Maggie's children, with some basic facts. Some have links to longer entries.
Parents: Maggie & Moses
Margaret Keville Baptized Mar 12, 1865, in Shrule, County Mayo, Ireland. Died of complications of uterine cancer, 23 Jun 1903. [Keville Family Tree]
Moses Flanagan Born: abt 1861, Limerick Ireland. Died of a brain syndrome May 6, 1920, St. Louis MO
Married Jan 6, 1888, at Holy Angels Church in Chicago IL
Children: 7, as listed below
See also the Flanagan Family Timeline and the Keville-Flanagan Autograph Book.
The Flanagan Kids
Nellie M. Flanagan
August 1889 [9] , in Illinois* - Mar 26, 1913 (obit published Mar 27, 1913). Age: 25
1910 [5]: not living at home with father and 2 brothers. Whereabouts unknown.
1911 [4]: living with father at 4245 Lexington, with occupation listed as clerk.
1913 [9]: living as a "housewife" on 4149 W. Belle Place
Nellie was married (to a Harry Kralemann) [8] on 5 Feb 1913 (St Louis County, MO). She died of peritonitis after having an abortion at the age of 25.[9] Kitty Mom told me this. While abortions may have been dark secrets pre-Great War, they were probably all the rage in the sexually liberated 1920's when Kitty became pregnant with her fourth child. She said that her girlfriends urged her to end the pregnancy -- perhaps because it came at a time when her family was mourning the premature death of her brother Tom. But the tragedy of her beloved sister had taught Kitty caution. Lucky for me -- that child was my mother.
Catherine Margaret Flanagan (aka Kitty Mom, my grandmother)
Aug 12, 1890 (Chicago IL) - Sept 16, 1984 (St. Louis MO) Age: 94
1900*: living with her family at 4267 Kossuth Av
1909, 1910 [4] : 4219a Farlin Av (next door to her father). We can assume that it was in 1909, at the age of 19, that Kitty got her job as a telephone operator and merited her own entry in the City Directory.
21 April 1910 [5]: 3861a Kennerly Av, living as a boarder with the Flynn family (Her father had moved to Lexington Avenue by this date.)
1911 [4]: 5535 Bartmer
1912 [4]: 1957 Semple
Occupation, 1909 - 1912 [4]: telephone operator (See Was Kitty Flanagan My Nancy Drew?). 1912-1940s: Grocery store proprietor. 1940s: Tavern and cafe proprietor.
1912 (Nov 22): Married Thomas Patrick Barrett Nov 22, 1912 (St. Louis, Holy Rosary Church). 4 children. Widowed in 1926. See Thomas Barrett entry for information on Barrett children.
1936 (Feb): Her second marriage was to Ewald Thomas Curran (St. Louis, St. Barbara Church).
Listen to "Kitty Keeps On Singing." See also "How To Be Kitty Mom."
Thomas J. Flanagan
About 1891 (Illinois)* [self reported as 31 July 189310 ] - 24 July 1924 (Missouri)7 Buried 26 July 1924.2 Age: 33
1910: not found in census, not living with father
1917: Living with father at 3931 St. Ferdinand Ave. Working as a machine hand, Schaffer Bros. Bldr Sup Co, 4018 Easton Ave. Described as short, slim, with brown eyes and black hair.10
1920: not found in census
Died in a state of delirium tremens at the City Hospital, where he was a patient from 12 Jul - 24 Jul.9
Joseph Timothy Flanagan
Aug 13 [9], 1894* or 1895 [5, 10] (Illinois [6]) - Dec 3, 1923 (obit published Dec 5, 1923) Age: 28 or 29
1910 [5]: 4245 Lexington Av, with his father Moses and brother Moses.
1917 Jun [5]: 1229 W. Jackson Blvd, Chicago IL. Working as a machine hand. He is described on his draft registration as tall and slender, with gray eyes and black hair; missing the first 2 fingers of his left hand "off at 2nd joint." [10]
1920 [6]: Lodging at 1529 Pine Street, with the Gregg family. His occupation is listed as a machinist in a planing mill (maybe the same planing mill where his father Moses had worked for many years.)
Died of lobar pneumonia at the City Hospital, where he was treated from 30 Nov to 3 Dec.9 His occupation was listed on the death certificate as grocery clerk. Date of birth is given as 13 Aug 1898, but the year is probably in error.
Moses Rafael Flanagan

25 Nov10 1896 (Edwardsville, Illinois)* - 14 May 1919. Age: 23
1910 [5]: 4245 Lexington Av, with his father Moses and brother Joseph.
1918: Registered for the draft from his "place of employment" -- the City Work House, but gave his home address with his father at 3931 St. Ferdinand Ave. Brown hair, brown eyes.
He was murdered on the streets of Chicago in a Prohibition-related "hit." Rose Park surfaced this information, courtesy of Chicago homicide records.
21 Dec 1898 (Missouri) - 14 Nov 1956. Age: 57
Baptised at Most Holy Rosary Catholic Church, corner of Margaretta and Clarence.
It is said that Ethel suffered from epilepsy. My grandmother claimed that her problems may have stemmed from being beaten in the chaotic household that followed her mother's death in 1903.
1910 [5]: "inmate" at the Guardian Angel Industrial School (1029 Marion St, St. Louis), with her sister Loretta. Placed on 3 April 1910 by her father, who contributed $5 per month toward her care.
1920 [6]: At some later point, she was placed in the St. Louis City Sanitarium (later called the Missouri State Hospital, 5400 Arsenal), where she resided during the 1920, 1930 and 1940 Census surveys and where she remained "the family secret" until her death in 1956. At one point my grandmother wanted to take her out and to have her live with her family, but the doctors talked her out of it. With Ewald's help, she got her moved to a more comfortable section of the institution.
Ethel died of lobar pneumonia while living at the St. Louis State Hospital (5400 Arsenal Street). Buried 16 Nov 1956 in Calvary Cemetery, Lot 0045.
Jan 8, 1901 [3] - Sept 10, 1919. Age: 18
Baptised at Most Holy Rosary Catholic Church, corner of Margaretta and Clarence.
1910 [5]: "inmate" at the Guardian Angel Industrial School (1029 Marion St, St. Louis), with her sister Ethel. Placed on 3 April 1910 by her father, who contributed $5 per month toward her care.
Died of bronchial pneumonia, complicated by underlying diabetes mellitus. She was in the City Hospital for a month before she died. Her legal address was 3931 St. Ferdinand, where her father lived. It is unclear whether or not she was still in an "industrial school" prior to her hospitalization.[9]
1.16.05 (last updated 12.10.05, 5.17.2016 )
Notes
Top Photo: Catherine, Thomas, Nellie Flanagan, about 1905. From a cabinet card photo by Rundle, Edwardsville, Illinois
* 1900 Census
2 Record from Calvary Cemetery, St. Louis MO
3 Birth record
4 St. Louis City Directory (It appears the Directories were published in April of the referenced year, so I'm guessing that the information was collected in January.)
5 1910 Census
6 1920 Census
7 1920 Census
8 known from her published obituary and marriage certificate
9 Missouri Certificate of Death
10 Draft Registration Card
***
---
Books by Susan Barrett Price:
THE SUDDEN SILENCE: A Tale of Suspense and Found Treasure (2015) Thailand: lovers of ancient treasure tangle with international black markets. Delia Rivera pulls Martin Moon back into the game and their quest turns deadly. In paperback and Kindle editions.
TRIBE OF THE BREAKAWAY BEADS: Book of Exits and Fresh Starts (2011) Time after time, Mary asks herself: Do I go or do I stay? She finds her power in her ancestors: Smart women turn discontent into action. An illustrated memoir in paperback and Kindle editions.
PASSION AND PERIL ON THE SILK ROAD: A Thriller in Pakistan and China (2008) The twin forces of revenge and redemption drive Nellie MacKenzie and Taylor Jackson on a crazed adventure into the heart of Central Asia. They grapple with issues of ethics, trust, rage, and bitter heartbreak -- as well as the intrigue of the international antiquities trade. In paperback and Kindle editions.
Connect:

All pages in this website by Susan Barrett Price are licensed under a Creative Commons Attribution-Noncommercial-Share Alike 3.0 United States License.