Saturday, 3.24.07: Week In Review
Quiet week on Planet Susan.
This photo is from our bedroom window, last Sunday — typical of our winter since January — snow by night, blinding sunshine by day. By the end of the week, most of the snow was gone — yay! The cardinals are singing up a storm. Can spring be far behind???
Projects. Writing — good progress on my fishing stories + a cartoon.
Voices from the past. (1) Anny & Terry called from NYC — we're excited that they might come visit us in July.
(2) Lee Ricketts — wow. This led me to join two groups of former Green Valley students and staff. I cleaned up some of my writing about those days and added another entry about maple sugaring.
(3) A Michael Curran saw my entries on Ewald and contacted me. He is the grandchild of Ewald's brother Harry. He has more Curran family information he's going to share with us. I love it.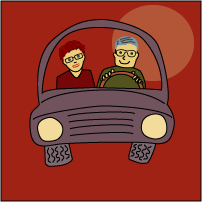 Organizing. Spent time organizing my toys and getting some old ones ready for Ebay.
A couple mini-roadtrips with Jim: Sunday - To Palmyra NY to prod my memory about a fishing location. Palmyra is where Mormonism was revealed to Joseph Smith. Friday - to a big crafts and antiques mall on the other side of the county.
Thumbs Up if you liked this entry.