mad in pursuit notebook
DISPATCHED FROM THE CROSSROADS
Week In Review
4.3.10 Busy week!
Productive work: Passions
"Wised Up" [aka "Grand Exits"] was back-burnered this week due to other projects.
Productive Work: Stewardship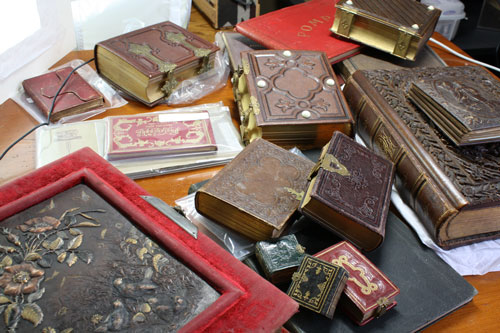 Tackled 20 albums and photo-books for my last push on Ebay before vacation. Moaning and groaning while I labored.
Exploratory Work
Fooling around. Decided I need to have a discipline around drawing. Goal: one quick sketch for mastering human anatomy/expression every day for 20 days. Already missed one day -- yesterday. I keep reading that "success" is less about talent than discipline.
Infrastructure work
My computer decided to play nice again. After removing some suspect add-ins and reinstalling Firefox, and playing Stitcher and Pandora off the desktop and on my iPhone, the wackiness stopped. Still wondering about the underlying issue.
Energizing Not-Work
Took a Good Friday excursion to the Montezuma Wildlife Refuge. Beautiful sunrise. Lots of ducks.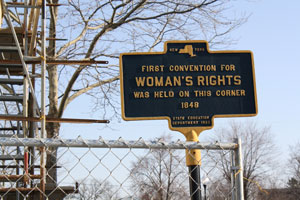 Then on to Seneca Falls for a relaxing breakfast. Seneca Falls NY is where the first Women's Rights Conference was held in 1848 (Susan B Anthony & friends). It's also said to be the model for Bedford Falls, the town in "It's A Wonderful Life." Still lovely, if slightly run down.
Apparently they are reconstructing the assembly hall where the conference was held.
Then we visited the outskirts of Weedsport to find the land where Jim's father was born. The house of "CH Zimmer" is clearly marked on a 1904 map. We found the land and this actually might be the family house (with additions). A beautiful bend in the road, just south of the old Erie Canal. Giant maple trees out front with buckets for sap collecting. Gorgeous place.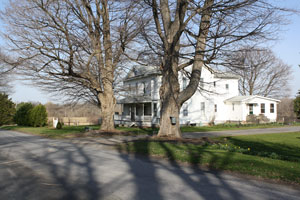 Jim's grandfather was an agricultural inspector for New York State and did work on Dutch Elm disease and the Japanese beetle. They moved to Long Island when Jim's dad was about 10.
This inspired me to give another go at organizing Jim's genealogy, which I spent the rest of the afternoon on, once we got home. More on that later.
<<<Last review | Next review>>>