Mad in Pursuit Notebook
Today
October Doll: Makeover, Part 1
5 Oct. 2021. I bought this wrecker of an old doll last Thursday. Let's call her "October" or "Tober." Thought I'd try my hand at making one of those zombie dolls for Halloween. But my mind got changed. First of all, she is already haunted. She comes by her cracks and crazing authentically--by being a real doll for decades,* in and out of toy chests, left in the garden during a storm, passed from sister to sister. She has spirit, but is no evil Annabelle.
Secondly, she doesn't want to be ugly. If she has communicated anything to me these past few days, it is that she doesn't want to spend her next decade as a faux-decomposed, mangled, fright-night creature. The world is ugly enough.
So we negotiated an agreement: a makeover that is other-worldly and magical, but no blood, no hanging eyeballs, no graveyard dirt.
Step 1: Surface prep. Two or three coats of gesso to prepare her skin for further treatments. There will be no effort to heal her crackles. (They seem stable, nothing is flaking off.)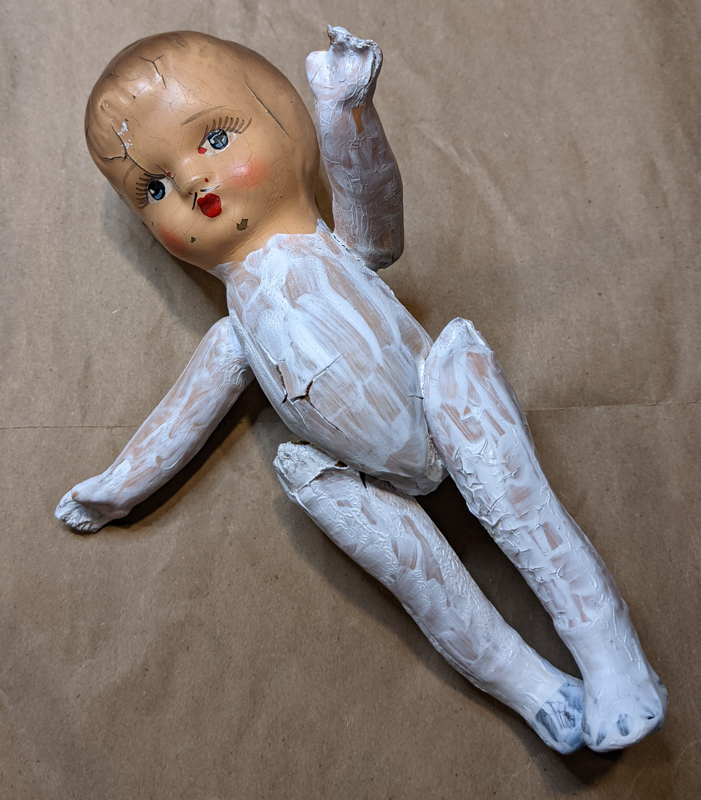 I decided to leave her eyes and lips alone for the time being. (How else could she see what I'm doing and tell me if she approves?). The little mustache is gone.
Step 2: Basecoats. Micaceous Iron Oxide is a good base for applying mica powders and paints. I painted her head and hands with acrylic. Titanium white + dot of primary yellow = ivory. Onlookers arrive to supervise and inspire.
Step 3... what next? I'm thinking, I'm thinking. [Continued>>>]
* Technical description. Tober's "make and model" could not be found in my giant doll reference books, but I'd describe her as an 8-inch composition doll of unknown manufacture. Painted blue eyes, red lips, and tiny mustache. Closed mouth. Molded hair and footwear. Jointed at shoulders and hips. ("Composition" dolls are fabricated from glue, sawdust, and a variety of other possible ingredients, popular in the early 20th century before plastics took over.)
***
---
HEADLONG: Over the Edge in Pakistan and China (2018) Traveler's tale of a 1992 adventure. A poorly planned roadtrip takes long-time lovers Susan and Jim to forbidden places and lost times. Kindle.
THE SUDDEN SILENCE: A Tale of Suspense and Found Treasure (2015) Thailand: lovers of ancient treasure tangle with international black markets. Delia Rivera pulls Martin Moon back into the game and their quest turns deadly. In paperback and Kindle editions.
TRIBE OF THE BREAKAWAY BEADS: Book of Exits and Fresh Starts (2011) Time after time, Mary asks herself: Do I go or do I stay? She finds her power in her ancestors: Smart women turn discontent into action. An illustrated memoir in paperback and Kindle editions.
PASSION AND PERIL ON THE SILK ROAD: A Thriller in Pakistan and China (2008) The twin forces of revenge and redemption drive Nellie MacKenzie and Taylor Jackson on a crazed adventure into the heart of Central Asia. They grapple with issues of ethics, trust, rage, and bitter heartbreak -- as well as the intrigue of the international antiquities trade. In paperback and Kindle editions.
Connect:

All pages in this website by Susan Barrett Price are licensed under a Creative Commons Attribution-Noncommercial-Share Alike 3.0 United States License. [The snowstorm image at the top of this page came from Wikipedia, under a Creative Commons license.]