Mad in Pursuit Notebook
Today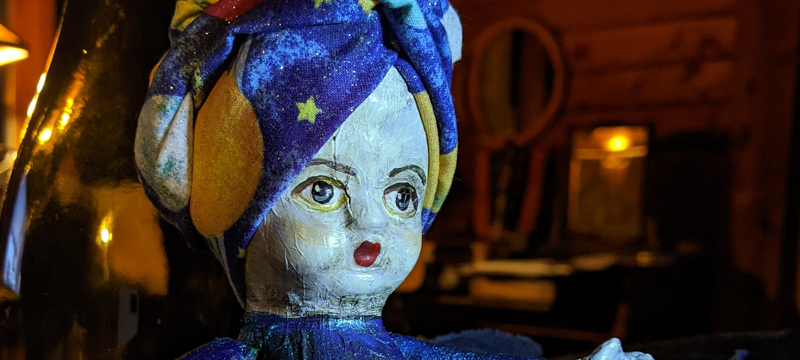 October Doll: Makeover, Part 2
6 Oct. 2021. [Cont'd. from yesterday] There comes that moment in every project where you think, what the hell am I doing?? That was this afternoon. Today's saga:
Step 3. I gave Tober golden boots with metallic acrylic paint.
Step 4. Using a variety of acrylics, I created a shimmery mottled "jumpsuit" for her.
Step 5. I "antiqued" Tober's head by dabbing on/rubbing off Mars black acrylic, then "correcting" the results with more ivory paint. I repeated that process till it didn't look horrible. But of course all of her cracks and bumps were accentuated. Kind of ugly, but... her age and velveteen-rabbit decay is the point, right? She also got eyebrows back, plus some eyeliner and blush.
What next? How can I embellish her outfit? And what can I do with her big earless bald head? A wig? A headdress? A wrap? A crown?
I dug out a couple bags of fabric scraps to play with while we watched TV. When I gave her this big turban from a sparkly stars-and-planets print (pinned into place), she suddenly looked right. Now I'm optimistic again. [Continued>>>]
***
---
HEADLONG: Over the Edge in Pakistan and China (2018) Traveler's tale of a 1992 adventure. A poorly planned roadtrip takes long-time lovers Susan and Jim to forbidden places and lost times. Kindle.
THE SUDDEN SILENCE: A Tale of Suspense and Found Treasure (2015) Thailand: lovers of ancient treasure tangle with international black markets. Delia Rivera pulls Martin Moon back into the game and their quest turns deadly. In paperback and Kindle editions.
TRIBE OF THE BREAKAWAY BEADS: Book of Exits and Fresh Starts (2011) Time after time, Mary asks herself: Do I go or do I stay? She finds her power in her ancestors: Smart women turn discontent into action. An illustrated memoir in paperback and Kindle editions.
PASSION AND PERIL ON THE SILK ROAD: A Thriller in Pakistan and China (2008) The twin forces of revenge and redemption drive Nellie MacKenzie and Taylor Jackson on a crazed adventure into the heart of Central Asia. They grapple with issues of ethics, trust, rage, and bitter heartbreak -- as well as the intrigue of the international antiquities trade. In paperback and Kindle editions.
Connect:

All pages in this website by Susan Barrett Price are licensed under a Creative Commons Attribution-Noncommercial-Share Alike 3.0 United States License. [The snowstorm image at the top of this page came from Wikipedia, under a Creative Commons license.]