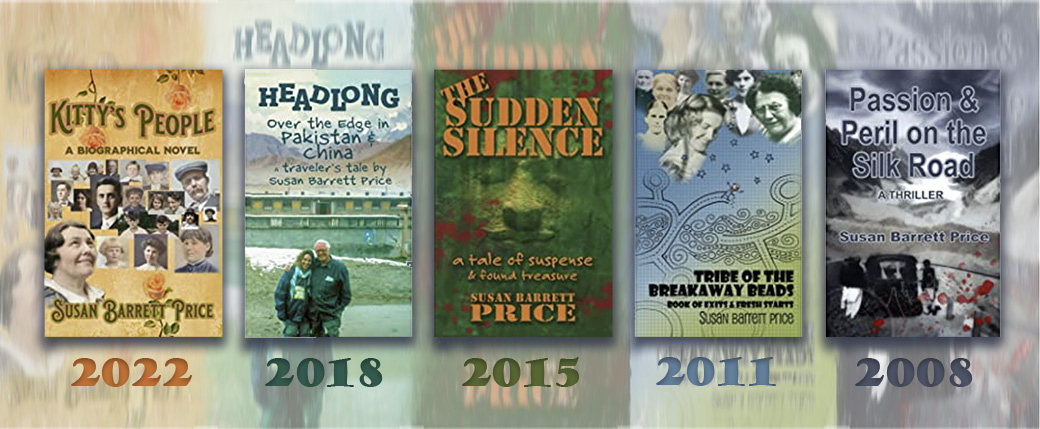 KITTY'S PEOPLE: An Irish Family Saga about the Rise of a Generous Woman (2022) Every family needs a legend. The legendary Kitty Flanagan has an origin story: Irish roots, ill-fated siblings, unconventional love stories, big hearts. Paperback and Kindle editions. [Notes]
HEADLONG: Over the Edge in Pakistan and China (2018) Traveler's tale of a 1992 adventure. A poorly planned roadtrip takes long-time lovers Susan and Jim to forbidden places and lost times. Paperback and Kindle editions. [Notes]
THE SUDDEN SILENCE: A Tale of Suspense and Found Treasure (2015) Thailand: lovers of ancient treasure tangle with international black markets. Delia Rivera pulls Martin Moon back into the game and their quest turns deadly. In paperback and Kindle editions. [Notes]
TRIBE OF THE BREAKAWAY BEADS: Book of Exits and Fresh Starts (2011) Time after time, Mary asks herself: Do I go or do I stay? She finds her power in her ancestors: Smart women turn discontent into action. An illustrated memoir in paperback and Kindle editions and free Audio. [Notes]
PASSION AND PERIL ON THE SILK ROAD: A Thriller in Pakistan and China (2008) The twin forces of revenge and redemption drive Nellie MacKenzie and Taylor Jackson on a crazed adventure into the heart of Central Asia. They grapple with issues of ethics, trust, rage, and bitter heartbreak -- as well as the intrigue of the international antiquities trade.Paperback and Kindle editions. [Notes]
Find out more about me and my books.
J. and I are magnets for old things. They travel far and long to be with us. They connect us to the past, to farflung places, to controversies, and to the divine. Through them we hear the voices of artists, shamans, letter-writers, explorers, and smugglers. I am always striving to tell their story. Start here with "What Possessed You...?" or browse the index of articles >>>
Radio. Short single-voice productions, available on PRX for public radio distribution and on Soundcloud
Movies. Short videos for good causes, including the widely recognized Valentine 1955 and the prize-winning Tell! and Be the Change. More at the Mad In Pursuit channel at YouTube
Most recent essays, family history updates, and news: 2023 | 2022
Family History pages. See also, Old Green River blog and KITTY'S PEOPLE page.
Castlewood History. Memories of the country resort along the Meramec River (St. Louis County, Missouri)
Susan Barrett Price—that's me. I love stories. During my long working life, I excelled in surrounding myself with mountains of information, then pulling out just the right story for the occasion. I straddle the line between nerdy intellectual and bold risk-taker. My two big novels reflect years of exploring the dilemmas of the trade in antiquities and cultural property. My memoir-novella TRIBE OF THE BREAKAWAY BEADS is more introspective, looking at the lives of women and what it takes to be a great dame. My memoir HEADLONG celebrates middle-age adventure and romance. KITTY'S PEOPLE combines the novel-writing and creative nonfiction skills into a page-turner of a family saga. MAD IN PURSUIT has been my workshop and publishing platform since 1999. Learn more>>>
---
MAD IN PURSUIT is a phrase from Shakespeare's Sonnet 129.

All pages in this website by Susan Barrett Price are licensed under a Creative Commons Attribution-Noncommercial-Share Alike 3.0 United States License.