Year In Review: 2013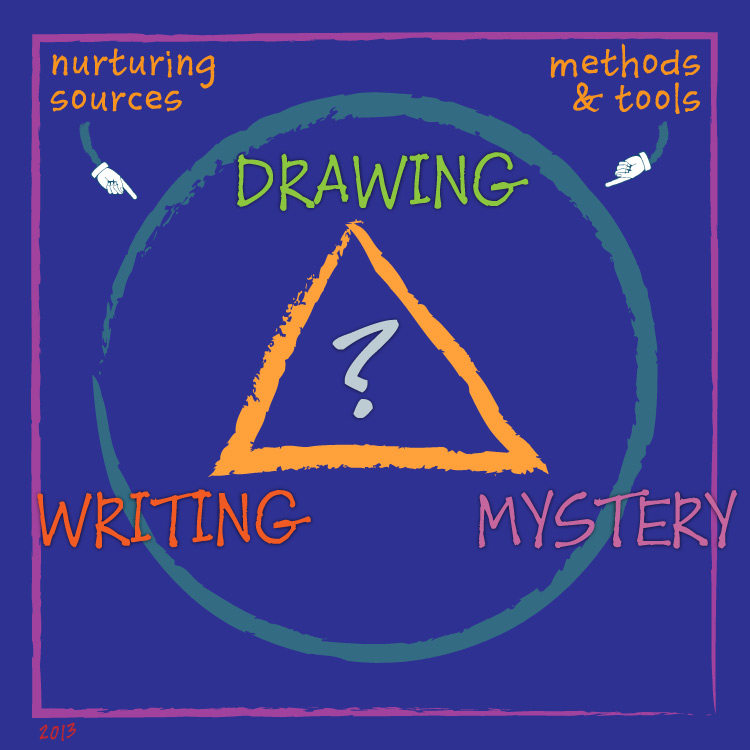 12.31.2013. Ten years! That's how long I have been making my way in the world without a salary, enjoying the dividends of managing to retire early from the employment game, taking advantage of the health and energy that comes with age 55-65.
In 2013, I put aside my complex "job description" to focus on the diagram above. I wrote:
Instead of parceling out my so-called work into categories, I want to home in on a central thing -- a thing, a "thing," a Thing, an emergent mysterious THING. My natural inclination at age 64 is to fly off in many directions, having fun experimenting and exploring and chasing little fish up the local creek. That's kind of what I did in 2012. That was good. But I think I need to focus this year. I love all the little perch and sunfish in my net, but I need to fish for one of those big old muskies that hide deep and aren't impressed by a common worm on a tiny hook. Okay, enough with the fish.
I want to dig into a project that demands writing, drawing, and the exploration of mysteries. I want to meld Process and Product to keep me discovering and not merely polishing a finished (aka dead) product.
I set out to surprise myself. Did I?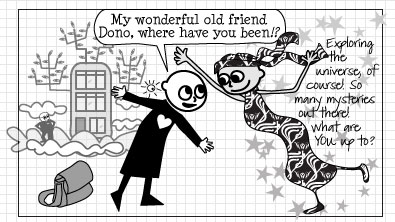 Yes.
DRAWING
Zuzu's Notebook. I knuckled down and did the cartooning that I had planned. Zuzu's Notebook started out to be what I called a graphic memoir and "a container for experimentation" but evolved over the course of 13 panels to concentrate more on my old friend Dot and Dash, along with their pals Dr. Dangerous and Dono. I constrained myself to working strictly in Adobe Illustrator, to gain fluency in that software and to give myself easy templates for better story lines. I also wanted to avoid the classic method of fully hand-drawing a panel, then meticulously (i.e., tediously) tracing it in Illustrator. The series begins here>>>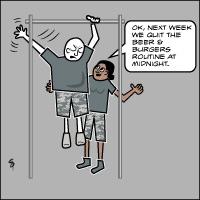 U.S. Army. Just as I was revving up my cartooning-in-Illustrator skills, I had the opportunity to lend a hand to my cousin JJG and illustrate some self-care concepts for a US Army poster. Five cartoons resulted.
Doodling. Funny but it takes a crazy amount of effort for me to pull out my little sketchbook and doodle while watching TV or sitting in a waiting room. Or to remember to pull out the colored pens and doodle into my daily notes. But it turns out to be an invaluable activity for loosening up my mind, whether it's aimless/freeform, working on a project idea (see "distraction" graphic), figuring out a "sketchnote" or doing a zentangle. How many times this year did I rediscover a doodle and wonder: "I did that??? Wow!... Wonder what I was thinking!?"
Diagramming. Definitely the year of the diagram. Spending so much time in Illustrator also made me turn out several crisp diagrams that give me the illusion I know what I'm talking about.
COLLECTIONS + WRITING
I tried to plunge deeper into the world of collected things this year, without feeling compelled to sell anything.
:: On the practical side, updated insurance documents and collectibles database. Added copious Civil War Era material to our database, as well as Photo-Secession gravures. Much help was provided by my nephew Brendan McD, who spent the month of July with us. (See photo below.) [link]
:: Added 18 short essays on beautiful and/or historical collectibles to my Art & Artifacts page, including two by Brendan McD. [link]
:: Developed a workflow meant to capture the art and science of working with collectibles. The theme: Start with the thing... end with the story. [link]
:: Joined several groups on Linked-In related to collectors and museum people -- very good discussions and lots of good advice.
:: Learned how to become a Wikipedia editor in order to update WP entries with the arcane knowledge embedded in our collectibles and the related print references in our library. [link]
:: Began considering what it means to collect and preserve precious-to-us things. Jim's the Collector. I am merely the enchanted Collector's Apprentice, trying to figure out what the deal is. Emerging from this thread of thought came The Collector's Apprentice, The Collector and The Collector Part 2, which had me inspired to put together a book of essays on collectible things and collectors. Our visit to Florida with Pat and Joe resulted in more conversation on this topic -- but more about mementos than collectibles: Talk of Things, followed by Lares et Penates: the Kitchen Gods.
:: I read Pat a couple of my essays. When she fell asleep, I decided my book idea was on the dry side. After all, in our discussions we had decided that collecting things were about emotional attachments and memories, as well as about curiosity and discovery. I transformed my project from "book of essays" to a sequel to Passion and Peril on the Silk Road. 20 years have passed. Jackson is dead. Nellie is left with all his collections. She opens an eBay store. She strikes up a correspondence with Dan, who is still in China. I got about 6600 words done before we had to set out on our summer roadtrip and our July activities with Brendan. I found this project very powerful, so I don't consider it abandoned. It is just the kind of integrating, mystery-filled, surprise-me project I started out to do this year. I should put it on my 2014 resolution list.
MYSTERY: QUILTING & DOLLMAKING
The real mystery of the year was the sudden turn from sitting at my computer to sitting at my sewing machine. One quilt completed [link]. Three dolls completed [Addie the Adventurer, Maeve the Brave, Hildie the Pocket Saint). Made a rag purse and a phone pouch. Painted designs on a travel vest. Many skills acquired.
I'm attributing this new passion to my obsession with trying to figure out "how to be more deeply creative." It's kind of a perennial question with a lot of glib answers, which can easily distract me from actually DOING something. But this year two of my diagrams helped me "wake the sleepy dragon." Diagram #1 below, in various forms, has become my guide for getting a grip on myself. (See Designing My Personal Energy Thermostat).
Diagram #2 below combines my personal energy plus tools and methods with lots of raw material. This adds up to POWER -- the power to ACT, to transform, to spin straw into gold. (See In search of the mystical pow! power).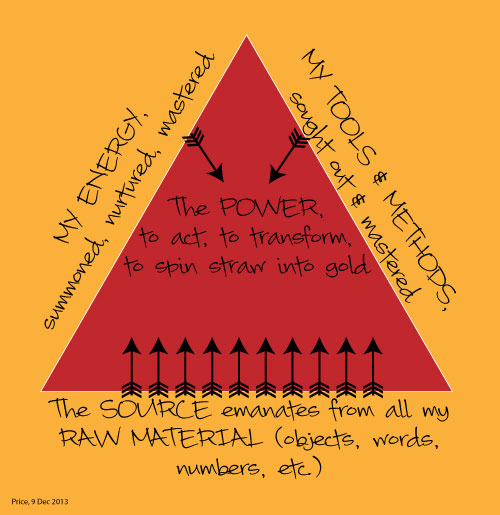 I have to thank my friend Pat D. for keeping me exploring -- beyond the piles of "raw material" (whether it's rooms full of collectibles or bags of old clothes to be repurposed) to the source of it all, the wellspring that keeps bubbling up the ideas.
PAST PUBLISHING
I continue to be lazy about marketing my books and have even abandoned most of my networking efforts among fellow self-publishers. I did make a silly little teaser for Tribe of the Breakaway Beads, which I posted on my Amazon Author Page. I also got some royalty checks this year -- enough for a cheap bottle of wine.
TRAVEL (what energizes)
ROADTRIPS
St. Louis -- four visits
Florida -- two visits, by plane in April to Daytona Beach and by car at Thanksgiving to Tampa Bay, Cocoa Beach and Daytona Beach.
Montana and all states in between -- three-week roadtrip
Conclusion
I'm not sure I graduated from chasing sunfish and perch to netting a muskie, but seems like the year opened up much new promise. Dolls and quilts feel like THINGS, emerging partly from my own energy and partly from my mastery of cool tools. But they come from some place mysterious to tell me a story, maybe even a story without words (a frightening thought for an Irish person). Over Christmas, my 8 y.o. grand-niece Gabrielle was intrigued by the two little dolls I brought along and suggested I make a line of "adventure dolls." I sense a big fish in there somewhere.