Mad in Pursuit Notebook
Today
13th Annual Art-Life Year in Review: 2016
Dec. 31, 2016. I was going to sub-title this "The Year I Cleaned House." But maybe it turned out to be the "Year of Surprises." I started 2016 with no greater ambition than to doodle a drawing a day on a Post-It Note and to try ice-dyeing. We ended up cleaning out our condo, selling it, and establishing our "world headquarters" here on Lake Ontario.
"Cleaning out" involved:
Packing up a 25-year accumulation of art tools and supplies that had been crammed into a 12x12 studio and re-establishing a work space on the ground floor
Moving 17 file drawers worth of Price/Zimmer history. A digitizing and tossing project has reduced that so far to about five file-drawer equivalents, including a sharable online archive of the Zimmer family. My goal is two file drawers.
Making storage space for J's "paper" collections (photos, prints, postcards, etc.). After selling a few photos, half the postcard collection, the Civil War letter collection, and delivering a few thousand stereo views to an auction house in Canada, we did pretty well at tucking it neatly away. But still taking up table space are three large boxes of World War I and II photographs.
Making display space for the rest of our collection. We did well, though I'm still puzzling over how to display my beautiful bead collection.
Selling a few pieces of furniture to an antique dealer
Throwing out a truckload of crap
Delivering a small truckload of excess to a donation center
Packing over a hundred boxes of books and finding new homes for most of them at university and public libraries
This activity (category: infrastructure) dominated us during the last half of the year. But I did find time to pursue the arts.
Textiles
Winter brought dollmaking. I learned how to make a wire armature and needle-felt heads and bodies. My ability to fashion clothes for them gradually improved. The result was Wilma (playful winter), Alice (dark winter), Tempest (wild spring), and Dash (sunny summer). In between dolls, I finished my "Red" quilt project. And during our extended season of relocation, I did manage some interesting additional stitching.
Throughout the year I played with dyes. Various techniques with Procion (commercial) dyes -- including snow dyeing -- resulted in colorful pillowcases, hand towels, and dish towels.
I persisted with natural dyes -- my "earth cloth" -- even though the results are often (at first) underwhelming (avocado pits, dried plants, variety).
During the first warm week of April, I moved my dye studio outside, concocted two types of indigo dye vats and started extracting color from dandelion and dock greens. I love outdoor chem lab!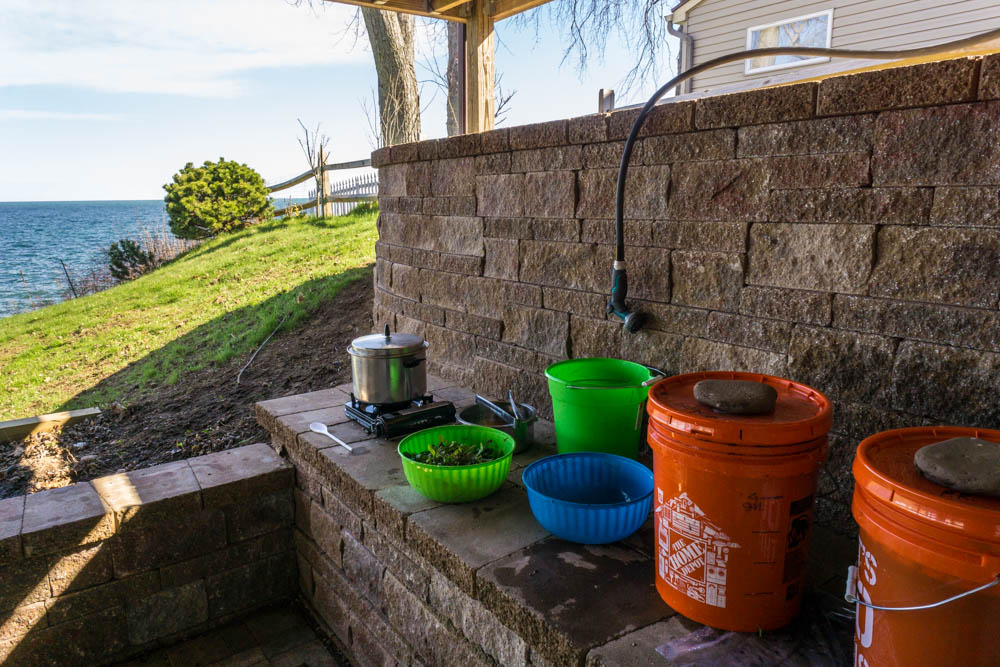 Writing
After publishing The Sudden Silence at the end of 2015, I was determined to keep up the momentum. I started revising my old murder-in-the-gym-during-a-blizzard novel, but got bogged down finally over a couple of plot points. The writing languished till the end of November, when I got the itch again and had to make a choice among three stalled projects.
The pros and cons led me to "Surrender," the working title for my memoir of traveling with Jim through Pakistan and western China in 1992. The challenge is improving the writing itself, combining the 1992 events with a 2016 perspective, and keeping it under 30,000 words. So far, the project is very satisfying because (a) I found a writing partner -- my friend Pat and (b) I'm able to dig in to some intriguing topics. Writing has to be about discovery and surprises for the author herself or else it's hack work.
***
Yes, overall, the year wound up surprising us. From an art-life perspective it was an unpredicted delight with no nasty turns. Jim and I accomplished a lot together, inching along with baby steps, the steady tortoises who managed to consolidate and re-integrate our artistic abundance into our cozy cabin-by-the-sea. That's why I picked the photo at the top to symbolize 2016 -- August 3 at 3 a.m., an unexpected capture of northern lights where the water meets the sky, outside our back door.
***
A year-end review is my form of public accountability to myself, justifying my choice of the art life over employment and fending off the sleepy temptations of retirement.
2015 Review | 2014 Review | 2013 Review | 2012 Review | 2011 Review | 2010 Review | 2009 Review | 2008 Review | 2007 Review | 2006 Review | 2005 Review | 2004 Review
***
---
THE SUDDEN SILENCE: A Tale of Suspense and Found Treasure (2015) Thailand: lovers of ancient treasure tangle with international black markets. Delia Rivera pulls Martin Moon back into the game and their quest turns deadly. In paperback and Kindle editions.
TRIBE OF THE BREAKAWAY BEADS: Book of Exits and Fresh Starts (2011) Time after time, Mary asks herself: Do I go or do I stay? She finds her power in her ancestors: Smart women turn discontent into action. An illustrated memoir in paperback and Kindle editions.
PASSION AND PERIL ON THE SILK ROAD: A Thriller in Pakistan and China (2008) The twin forces of revenge and redemption drive Nellie MacKenzie and Taylor Jackson on a crazed adventure into the heart of Central Asia. They grapple with issues of ethics, trust, rage, and bitter heartbreak -- as well as the intrigue of the international antiquities trade. In paperback and Kindle editions.
Connect:

All pages in this website by Susan Barrett Price are licensed under a Creative Commons Attribution-Noncommercial-Share Alike 3.0 United States License. [The snowstorm image at the top of this page came from Wikipedia, under a Creative Commons license.]